Experience superior comfort and style with ultra-soft, reusable earplugs. Perfect for sleep, noise and sound sensitivity, travel, parenting, and more. Crafted using premium materials and boasting a patented ergonomic low-profile design.
FORT COLLINS, Colo., August 15, 2023 (Newswire.com) - The founders of Decibullz, known for their decade-long contribution to innovation in hearing protection and inventors of space earplugs for astronauts, are thrilled to announce their newest venture: CURVD. CURVD is a premium lifestyle brand dedicated to crafting fashionable, high-quality, and sustainable earplugs designed for everyday use.
Launching with the flagship product, "Everyday Earplugs", CURVD marries style with functionality. With the promise to 'Soften the Sound', these high-end earplugs offer an enhanced auditory experience for a multitude of activities, including sleep, travel, productivity, and assistance for those experiencing sound and noise sensitivity. Further enhancing the user experience, CURVD has introduced an innovative optional Case Clip accessory for convenient attachment to bags, purses, and belt loops.
"Our goal with CURVD is to revolutionize the way people perceive earplugs," says Kyle Kirkpatrick, founder of Decibullz and CURVD. "We're treating earplugs like sunglasses—a blend of fashion and function. Whether you need better sleep, improved focus at work, are attending a concert, or just need to soften the sound in a noisy environment, CURVD has you covered."
Crafted from ultra-soft premium silicone and packaged with a sleek aluminum carrying case, CURVD Everyday Earplugs offer a unique, customizable fit courtesy of four different silicone tip sizes. The patented ergonomic and iconic CURVD shape complements the ear's natural curves for a comfortable, secure, and low-profile fit. The Everyday Earplugs feature a lab-tested and EPA-certified Noise Reduction Rating (NRR) of 15dB and provide up to 30dB of sound isolation. Adding to the user experience is CURVD's innovative Case Clip accessory, providing a simple solution for attaching your earplugs to bags, purses, or belt loops.
Available in six distinctive colors — Mindful Mint, Blissful Blue, Peaceful Purple, Harmony Honey, Balanced Black, and Calming Cloud — the Everyday Earplugs, with an MSRP of $29.95, truly define fashion-meets-function.
In addition to providing premium quality and performance, CURVD places a high value on sustainability. The company is committed to making products that are not only good for users but good for the planet. CURVD has even gone as far as creating an innovative in-house silicone recycling program, a first for the earplug industry. CURVD Everyday Earplugs are re-useable, easy to clean, use no plastic, and are 100% recyclable. CURVD packaging is also FSC (Forest Stewardship Council) certified.
CURVD's Everyday Earplugs are available for purchase via Amazon or curvdearplugs.com. To learn more about CURVD and its products, visit www.curvdearplugs.com.
About CURVD
CURVD is a premium lifestyle brand on a mission to revolutionize earplugs. Founded by the innovators behind Decibullz, CURVD creates stylish, sustainable, and high-quality earplugs for a range of everyday activities. For more information, visit www.curvdearplugs.com.
Contact Information:
Kyle Kirkpatrick
[email protected]
970-692-2383
Related Files
CURVD EE Product-onesheet (1).pdf
CURVD KEYCHAIN Product-onesheet (1).pdf
Related Images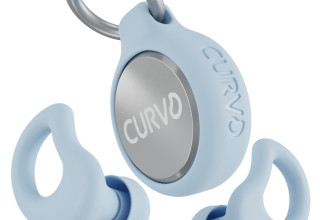 CURVD Everyday Earplugs with Optional Case Clip
Everyday Earplugs with Case Clip.
Original Source:
Introducing CURVD Earplugs: A Premium Lifestyle Brand Offering Stylish and Sustainable Earplugs From the Creators of Decibullz